We have been blessed, again, to have been mentioned in an article on Martha Stewart Weddings!  Thank you, Jenn Sinrich!!
These Are the Wedding Trends Planners Expect to See in 2018
The pros are very excited about these ideas.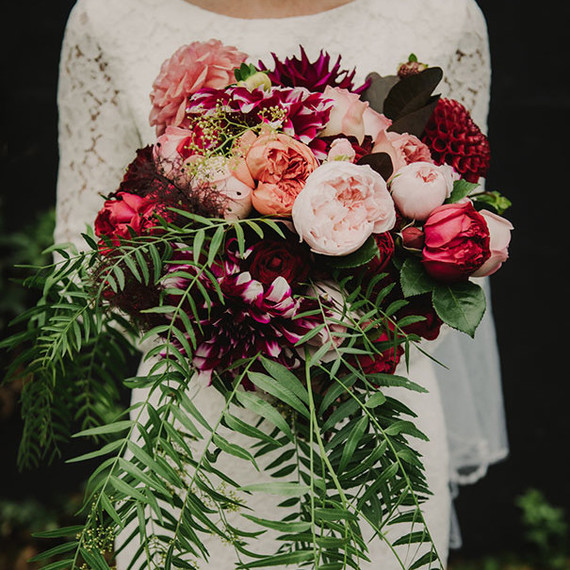 Trends of all kinds can last for just one season or stick around for decades. This is true of wedding trends, too. While the white gowns, loving vows, and festive celebrations will likely remain unchanged, there are plenty of new ideas we can expect to see in future celebrations. To get a look at the wedding trends to come, we asked planners to share the ones they're gearing up for in 2018.
Next-Level Food and Beverages
Wedding food and drinks have been getting more and more unique each year, but Brandi Hamerstone, a wedding planner at All Events Planned, expects to see couples really go for it in 2018. "This trend is happening mostly by a push from the groom!" she adds. "Having a bar with several versions of bourbon (or whisky and tequila), special glassware, and a knowledgeable bartender is a fun concept for everyone. It's best to have something like this only available through cocktail houror later in the evening as it becomes a focal point and will definitely pull people around and keep them engaged."
Suspended Florals
"In the past few years, floral design has taken a completely different turn. Where we primarily saw arrangements on tables, we're now seeing flowers suspended from the ceiling," explains Alison Laesser-Keck, event planner and designer at Alison and Bryan. "This creates an ethereal ambience that's unexpected and multi-sensory. It just transports people and has a huge impact." If you love the idea of a hanging floral installation, Laesser-Keck says to make sure you hire an experienced floral designer since there are a lot of logistics and liability to think about. "Find someone who will help you visualize the right location in your venue for maximum impact," she adds. "Installations can be very expensive, so choose a few key places to do them in and make sure it's where you'll be spending the most time."
Fashion Risks
Gone are the days of all-white, strapless wedding dresses, says Laesser-Keck. "Brides today are forgoing tradition and choosing a dress they love. Some go classic for the ceremony then change into something super fun for the party," she explains. "Either way, we are definitely going in a direction where brides feel like they can showcase their personalities through their outfit choices." So if you fall in love a patterned dress or one in an unexpected color, wear it.
Resurgence of '80s and '90s Style
"If the runways at New York Fashion Week were any indication, we're going to be seeing a major comeback of '80s and '90s fashion inspiration in weddings next year," explains Leah Weinberg, wedding planner, owner, and executive planner at Color Pop Events. "From colors like turquoise and hot pink and patterns like splatter paint and geometrics, those decades will inspire bold ideas that will pop up in a variety of ways—on invites, table runners, day-of signage, and much more."
An Infusion of Metallics
Expect to see some glam events in 2018. According to Larissa Banting, President of Weddings Costa Rica and founder of The Lazy Bride, metallic color palettes will rule the 2018 wedding scene. "We're seeing a return to luxe, with sparkling sequins overlays, chargers in every shade of metallics, and chairs in varying shades of gold," she explains. "We're seeing gold foil on invitations, menus, seating cards, wine glasses—everywhere!"
Majestic Marble
Stately, elegant marble will play a big role in upcoming weddings. If your venue already featrues walls or columns in the material, you're in luck: Use these areas as a ready-made photo booth backgroup. If not, says Kimberly Lehman, wedding and event planner at Love, Laughter & Elegance, find other ways to bring the cool stone into your day. "Use marble patterns in smaller, more decorative ways, like on your invitations or wedding cake," she suggests. "Marble drink coasters could double as place cards and favors, with names scripted in gold on each one."
Incorporating Your Hobbies and Interests
"Keeping guests entertained and engaged is still popular, and things like open-air photo booths and lawn games are a great way to do that," says Myriam Michel, owner and creative director of M&M Elite Events. "Couples can make this trend their own by incorporating their hobbies into the reception. For example, this past summer, our couple was big into hookah so we created a custom hookah bar lounge that was a huge hit with all her guests."
Bold Floral Statements
Hanging installations of blooms aren't the only floral statement couples will make in 2018. Lehman expects to see bouquet upgrades, too. "We've seen lush floral bouquets with large blooms and trailing greenery. This will continue into 2018," she says. "The colors will be bold, and eclectic, rather than the soft pastels so often used. Oversized bouquets and table arrangements will take center stage, with smaller, more subtle accents of candles and ribbons. We will see more patterned floral gowns for brides and attendants, as well as blooms used creatively in hairstyles."
Colored, Custom Tuxedos
Good news for the guys: You also have a trend to look forward to. Michel says that more grooms are making bolder fashion choices and will continue to do so next year. "Men's fashion is stepping out big. They are making bold tuxedo and suit choices, choosing colors like burgundy, plum, and indigo and wearing slim fit cuts," she says. "We also see grooms wearing custom bow ties and suspenders."